Christian formation is the lifelong process of growing in our relationship with God, self, others, and all creation. Every experience in our lives can provide us with the opportunity to express our faith; the challenge we face is recognizing these opportunities and learning ways to live a sometimes countercultural life in a secular world.
At the heart of Palmer Memorial Episcopal Church is a dynamic, growing faith community of children, youth and adults! Our programs aim to foster God's love in a progressive, inclusive setting.
For more information, please contact Roger Hutchison, Palmer's Director of Christian Formation and Parish Life.
Click HERE for a list of weekly Bible Studies.
---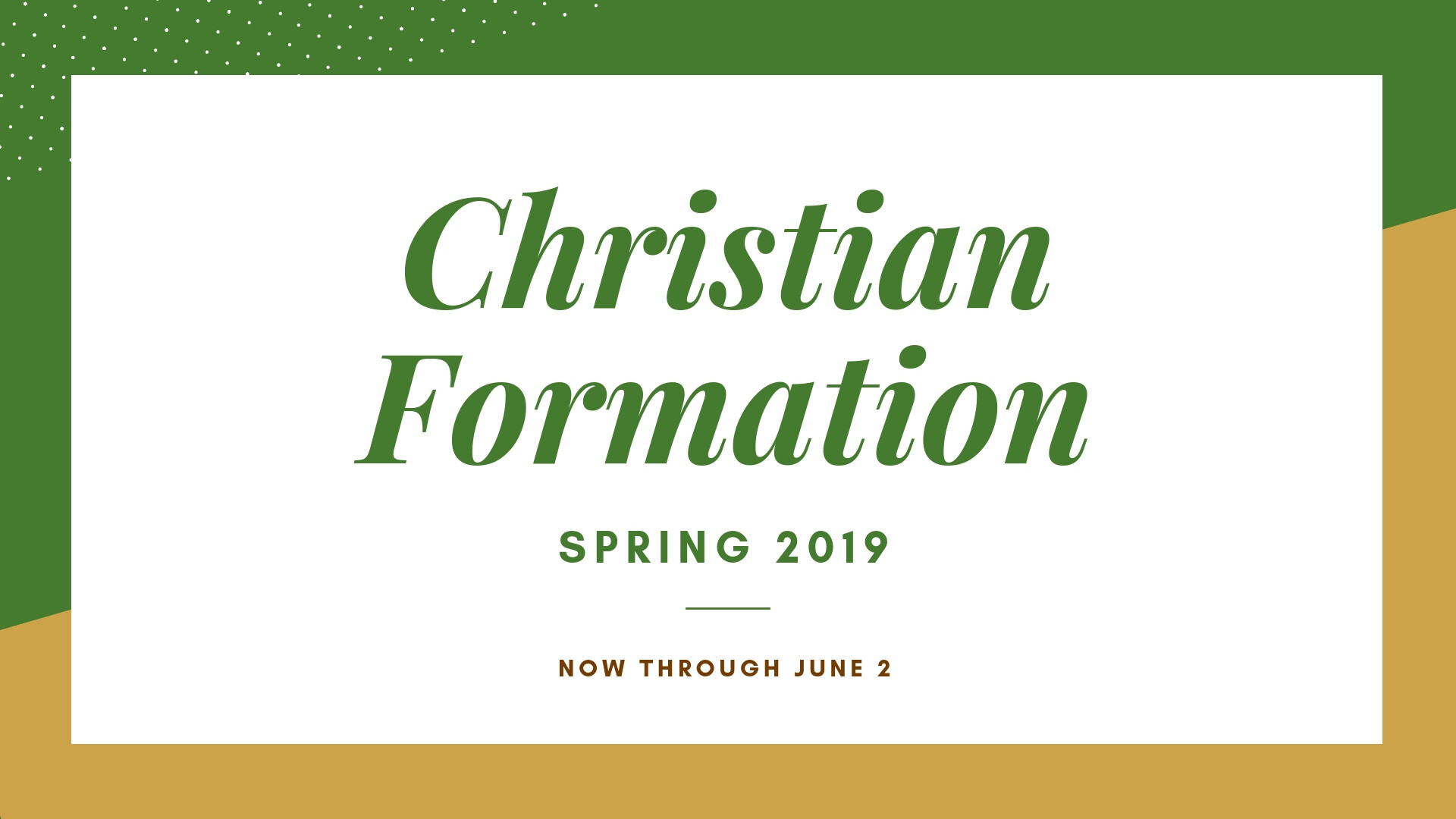 Sunday Morning
10:15 - 10:50 am
The Palmer Faith Forum
This forum focused on race relations and getting to know our neighbors from Rice University, The Texas Medical Center, The Museum District, neighboring faith communities. We had the opportunity to hear from a diverse group of practicing educators, experienced community leaders, and hands-on researchers. We explored ways that Palmer can be a better neighbor through partnerships, action, and service.
Palmer Faith Forum Lenten Series
"Observing a Holy Lent: What's Grace Got To Do With It?"
"Lent, more than any other liturgical season, is vulnerable to extremes. Some of us delight in the flagellation of the season with our ascetic disciplines, while others, in rebellion against the strictures of penance, flaunt Lent as if it were one long Mardi Gras. Funnily enough, both extremes belie a yearning for forgiveness and a fear to see ourselves as we really are. This Lenten series seeks to explore what Lent might be for us if God's enduring forgiveness were the seedbed, the launch point, for gracious self-examination. Join us as guest conveners and Palmer clergy introduce us to a Lent characterized by grace in pursuit of holiness."
March 24 - The Rev. Bob Flick
March 31 - The Rev. Steven Tomlinson
This is Us! Getting to Know Anglican Christianity at Palmer
Let's face it, with all of the strange vocabulary, funny clothes, tradition-soaked ritual, and strangely-Protestant-but-also-Catholic beliefs, being an Episcopalian should come with a training manual. And if you're new (or newish!) to Palmer, there may be some things about the history of this parish that explain why we worship and fellowship the way that we do. This is Us! is a great way to get to know the parish–its history, its community, opportunities to get involved here– and to deepen an appreciation of the Anglican way. Everyone is welcome! - Join The Rev. Liz Parker and a gaggle of fellow Palmers every Sunday at 10:15 am in A102.
Where the Wild Things Are – Parenting in an Ever-changing World
Join us on Sunday mornings for Where the Wild Things Are – Parenting in an Ever-changing World. Through the sharing of classic and modern children's books, children's literature, and Holy Scripture, we will explore and discuss themes that touch, challenge, and inspire our lives as parents. This class is open to all – dual parents, single parents, stepparents, godparents, prospective parents, adoptive parents, foster parents, grandparents…come one come all! – Facilitated by Kristin Hutchison, Leigh Kent, Catherine & Mark Beebe, Holy Cross Chapel
BIBLE STUDY: the Letters of paul
This returning Bible Study class will continue with its study of the writings of Paul in the New Testament. – Room A102 with Allen Sparkman, Adrienne Bond, and others
Children's Formation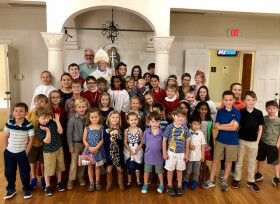 Liturgy Preparation (Liturgy Prep) is offered each Sunday as an integral part of the 9 a.m. and 11 a.m. worship services. Our average participation numbers have grown significantly this year. We have had as many as 60 children present for Liturgy Prep. The children are led out of church behind the children's cross during the Gospel hymn and return at the exchange of the Peace. During this special time, the children have an opportunity to worship and learn about the gospel lesson for the day. This special time is spent singing together, praying together, and talking about the gospel or some other aspect of the Liturgy. Liturgy Preparation is offered to all children.
Children's Sunday School: This year we began the fourth year of Weaving God's Promises with the focus on Weaving God's Beloved Community - How we are called by God to live in loving community with one another and fulfill God's promises for us in the healing of all creation. We learned together that we are called by God to live as One Body in Christ, loving our neighbors as ourselves.
Weekly Bible Study
Palmer also offers four different Bible Studies throughout the week.
Sunday Bible Study - Everyone is invited to this Bible Study on Sundays from 10:15 AM to 10:50 AM in room A102.
Wednesday Bible Study - Wednesdays from 12:00 PM - 1:00 PM in room A102. Together we...pray, reflect and study Scripture.
Men's Bible Study - This group meets Tuesdays from 7:00 AM – 8:00 AM in Room A102.
Women's Bible Study – This group meets on Tuesday mornings at 7:00 AM in the Palmer Library.
Wednesdays at Palmer
7:00 pm - 8:00 pm

LENTEN BOOK DISCUSSION:
Everything Happens for a Reason and Other Lies I've Loved by Kate Bowler
"What does it mean to die in a society that insists everything happens for a reason?" This is the question that motivates Kate Bowler's writing as stage IV colon cancer interrupts her life, just as it is taking off. A professor of American Christianity at Duke Divinity School, Bowler weaves her research interest in the prosperity gospel into the experience of diagnosis, treatment, and the loss of certainty that comes to enrich her faith. Riddled with wit and honesty, Everything Happens for a Reason invites us to consider our own mortality and the God who companions us through it. Join us for this lively discussion every Wednesday night in Lent at 7PM in A102. You can read her NY Times op-ed on the experience by clicking here.
Traveling the Palmer Way: Life as Pilgrimage
Religious traditions around the world have encouraged pilgrimage – journeys of spiritual significance, often to a holy site – for the graces bestowed along the journey, there and back again. The wisdom of pilgrimage is that it teaches us that our very lives are also a pilgrimage, with all of the same perils of leave-taking, hardships along the way, and homecoming as a new person. In this class, we will learn about various pilgrimages of the Christian tradition – the Camino de Santiago, Sanctuary of Our Lady of Lourdes, The Holy Land – as material for reflection on our own lives as pilgrims. What must be left behind to go on the journey God is calling you to? How does the Spirit show up in the trials along the way? Who is it that returns home? - Join Jerusalem Peacebuilders' Jack Karn and The Rev. Neil Willard as they facilitate this visually inspiring and personally reflective class each Wednesday night in Room A101.
Tower bell Ringing 101
See what is going on up in the bell tower. Come on up to the Ringing Chamber (go through Sacristy at back of Nave). Available most Wednesdays at 7 pm. For info contact or text 713-504-2747 – Allen Nunley, Ringing Chamber