The Art and Culture of Peacemaking
Eastertide Pilgrimage
Houston Interfaith Citizenship Institute
Jerusalem Peacebuilders is an interfaith non-profit organization with the mission of creating a better future for humanity across religions, cultures, and nationalities. JPB's programs focus on uniting Israeli, Palestinian, and American youth and adults, providing them with opportunities and skills to become future leaders for peace in the global community. Co-founded by one of Palmer's own, Jerusalem Peacebuilders is an central component of Palmer's ministry of reconciliation, both locally and in the wider world. Palmer participates in Jerusalem Peacebuilder's Houston-based Interfaith Citizenship Institute each summer, sends annual Eastertide pilgrimages to the Holy Land, and offers semesterly Great Wednesdays classes on the topic of peace-building.
---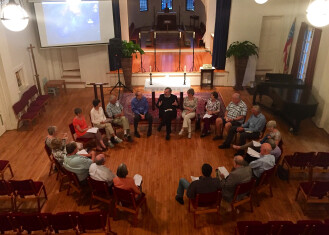 Can Memory and Forgiveness Conspire? The Art and Culture of Peacemaking – Great Wednesday Class (Begins September 13, 2017) - So, you probably know some thing about the conflict in the Holy Land. Maybe you've read some books on its history. But have you ever wondered what the conflict in the Holy Land has to say about conflict in our lands? Join The Rev. David Wantland, Stuart Kensinger, Co-Director of Jerusalem Peacebuilders, and Jack Karn, Houston Regional Director for JPB, as they facilitate a conversation around the place of memory and forgiveness in the process of peacemaking, both in the Middle East and in the conflicts in our country. This interactive class will use the mediums of poetry, story, film, song, and political art to interrogate the culture of conflict, so it's bound to be a lively and creative endeavor. Join us every Wednesday at 7 PM in A101.

---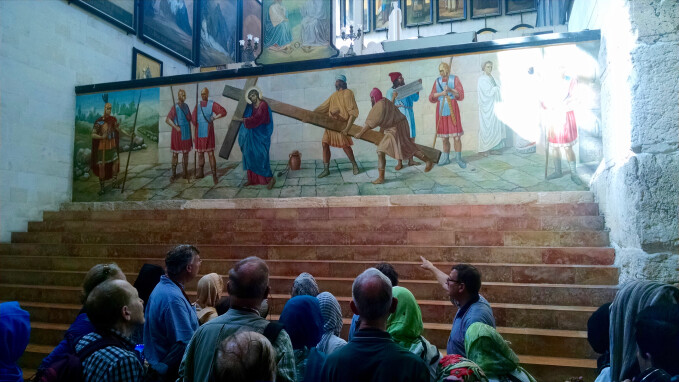 Eastertide Pilgrimage – This Eastertide, you are invited to participate alongside other Palmers in a pilgrimage to the Holy Land with Stuart Kensinger, Palmer parishioner and co-director of Jerusalem Peacebuilders.
This pilgrimage will trace the life, ministry, death, and resurrection of Christ Jesus. Together, we will sojourn in Israel and the West Bank, leaving Tuesday, April 10, 2018 and returning Sunday, April 22, 2018. The estimated cost of the trip is $3310, excluding airfare, and based upon double occupancy. This price, however, does include the cost of all rooms in superior (but not deluxe), hotels, meals, transportation, tips, guides, and entry fees.
For more information, contact Stuart Kensinger. For forms and a detailed description of the trip, check out the Jerusalem Peacebuilders website.
---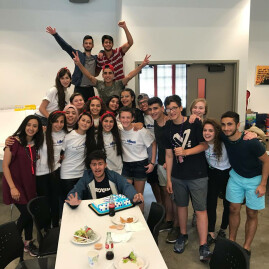 Houston Interfaith Citizenship Institute – Each summer, Jerusalem Peacebuilders hosts institutes in the Houston area, bringing together American, Israeli, and Palestinian teens in order to deepen cross-cultural relationships, civic responsibility, and knowledge of Houston's social and environmental challenges. Participants engage in personal and group challenge activities and learn what local government, faith communities, and service providers are doing to tackle social and environmental issues. The Houston institutes happen both in rural Navasota and in the heart of Houston. Palmers have the chance to serve during the institutes, from being an on-site shepherd, to hosting the participants for an evening at Palmer. If you are interested in being a part of this fun and educational program, contact Stuart Kensinger.