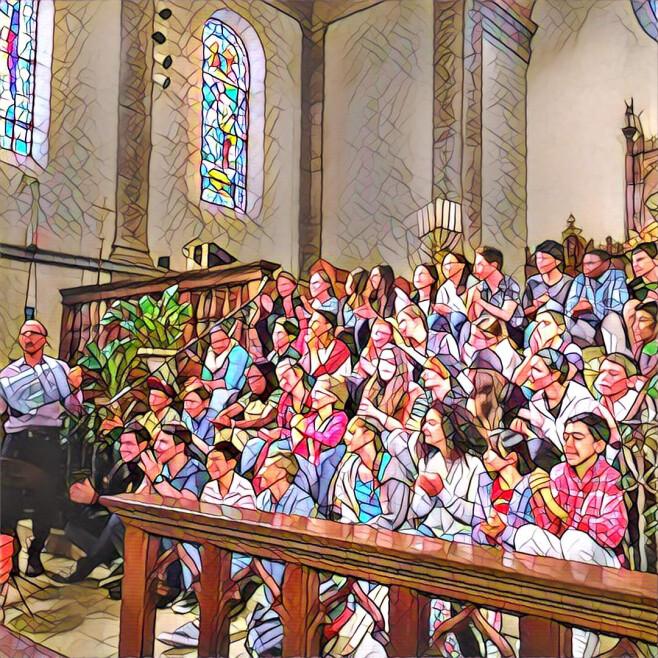 Jerusalem Peacebuilders brings young people together for a truly life-changing opportunity to meet children of other faiths and cultures. Jewish, Muslim and Christian youth from the U.S. and Jerusalem come together to experience one another in a unique setting. To learn more, visit Jerusalem Peacebuilders.
---
Blessed Are the Peacemakers - Great Wednesday Class (Begins September 14, 2016) - Jesus said, "Blessed are the peacemakers, for they will be called children of God." You are invited to explore what it might look like to takes these words of Jesus seriously in the world today. The Rev. Neil Alan Willard, Rector of Palmer Memorial Episcopal Church, and Stuart Kensinger, a member of Palmer's Vestry and Co-Director of Jerusalem Peacebuilders, will be facilitating this series of conversations and presentations. Mr. Kensinger brings to the table his experience of helping to lead peace camps that are comprised of Jewish, Christian, and Muslim young people from the Holy Land and the United States. In those summer camps, the youth learn about themselves and their own faith, while also learning about their neighbors and their beliefs about God. They also learn how to talk to one another in light of differently remembered histories and differently held opinions. The conversations are challenging, at times difficult, and necessary in today's world if we want to embody the words of Jesus as Christian peacemakers.
In this weekly gathering, we will be learning some of those same skills, asking ourselves difficult questions, and hearing not only from one another but also from several guest speakers from the community along the way. Living together in peace as Jews, Christians, and Muslims isn't just about daily life in Jerusalem and the hopes of the people who live there about the future. It's also about daily life in the City of Houston. It's about the neighborhoods in which we live and the offices in which we work and the future that we want to create together. So if you want to explore what it means to follow Jesus into those places, come and participate in this group. - St. Bede's with The Reverend Neil Willard and Stuart Kensinger

---
Pilgrimage to Jerusalem - This fall you are invited to participate in a pilgrimage to the Holy Land with Palmer's own Stuart Kensinger, a member of Palmer's Vestry and the co-director of Jerusalem Peacebuilders.
This pilgrimage will trace the life, ministry, death and resurrection of Christ Jesus. It will take you with other pilgrims to Israel and the West Bank, leaving Tuesday, October 25, and returning Sunday, November 6. The estimated cost of the trip is around $3,900 per person based upon double occupancy, excluding airfare. This price, however, does include the cost of all rooms in superior, but not deluxe, hotels, meals, transportation, tips, guides, and entry fees.
Contact Stuart Kensinger for more information or to ask questions.