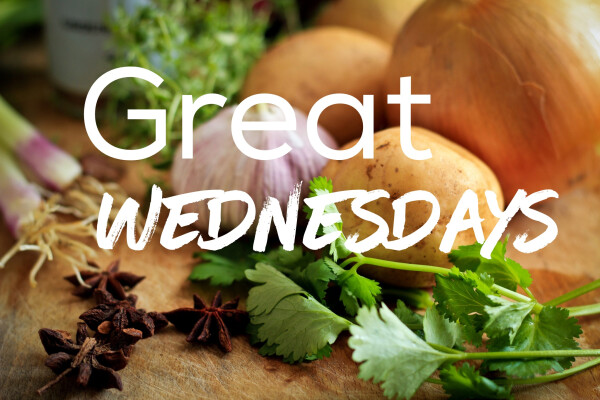 FORMATION OFFERINGS | Fall 2017
GREAT WEDNESDAYS BEGIN SEPTEMBER 13
Since the earliest days, Christians have celebrated Jesus through the sharing of worship, ideas and food. Our Great Wednesdays continue that tradition of nourishing body, mind and spirit. Consider Great Wednesday to be a midweek spiritual break, a mini-Sabbath. Give yourself, your friends, and family this gift of time. Put it on your weekly schedule. Come for the intimate worship service, a delicious meal, and the opportunity to learn something new.
Great Wednesday Schedule & Pricing
5:30-7:00 Dinner is continually served in Parish Hall during this time frame.
*Cost: $7.00 Adults and $3.00 children
6:00-6:30 Healing Holy Eucharist in St. Bede's Chapel
7:00-8:00 Great Wednesday Programs and Classes
*At the request of the Finance Committee and in response to God's call to be good stewards of the many gifts bestowed upon us, you will note that there has been a $2.00 increase in the cost of Great Wednesday dinners. Great Wednesday dinners at Palmer often include three full courses – salad, entrée and dessert – plus beverages. This increase will help us to live within our means by covering the costs associated with this parish offering.
Volunteer
Great Wednesday requires the work of many hands and there are a number of ways you can help. All parishioners are invited to participate; no need to wait for any particular group or team sign-up!
Serving Line - Interested in being part of the Great Wednesday Serving Line? Please contact Sue Howard -
Cashier - Interested in serving as a cashier? Please contact Tara McConathy -
Meal Preparation - Interested in helping prepare a Great Wednesday meal? Please contact Ruth Davies at .
We are excited that Ruth has taken the lead on organizing our Great Wednesday dinners. Thank you, Ruth!
Menu 9/20/2017
Beef Lasagna
Vegetarian Lasagna
Salad
Bread
Cookies
Children's Menu:
Children's Option Available