Christian formation is the lifelong process of growing in our relationship with God, self, others, and all creation. Every experience in our lives can provide us with the opportunity to express our faith; the challenge we face is recognizing these opportunities and learning ways to live a sometimes countercultural life in a secular world.
At the heart of Palmer Memorial Episcopal Church is a dynamic, growing faith community of children, youth and adults! Our programs aim to foster God's love in a progressive, inclusive setting.
For more information, please contact Roger Hutchison, Palmer's Director of Christian Formation and Parish Life.
Click HERE for a list of weekly Bible Studies.
---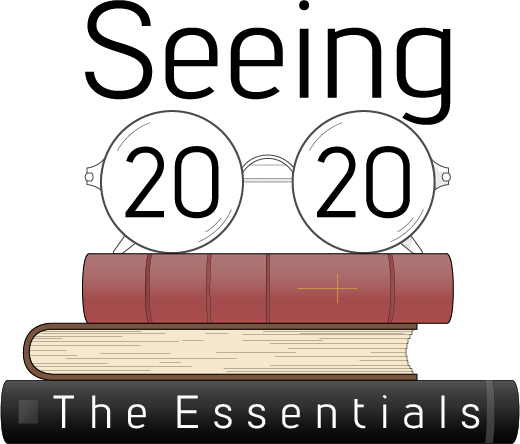 What are the essentials that keep a faith vital in our ever frantic and scheduled lives? How can we encounter the Risen Lord in an over-burdened workweek? What are realistic ways to grow as Christians in the carpool line, on a lunch break, or an irregular schedule? These are the questions at the core of our Spring Formation series. Seeing 20/20 is about simple foundations that support a life of faith, for an individual, a family, and a parish: tools for reading the Bible, tools for prayer, and tools for healing strained relationships.
Sunday Morning
10:15 - 10:50 am
Faith Forum
Each Faith Forum (Sundays at 10AM) is paired with Great Wednesday gatherings, so that every week presents two opportunities to explore a topic–with a first-blush exposure at the Faith Forum and a more in-depth opportunity to practice at Great Wednesdays. Whether you come for the whole series or for the specifics subjects that interest you, we trust that this series will encourage and resource you in the knowledge and love of God.
| | |
| --- | --- |
| January 5 | First Sunday Welcome Reception |
| January 12 | Episcopal Polity 101 (David Wantland) |
| January 19 | Meet the Candidates |
| January 26 | Parish Meeting |
| February 02 | First Sunday Welcome Reception |
| February 09 | TRUTH (Neil Willard) |
| February 16 | GRACE (David Wantland) |
| February 23 | SPIRIT (Liz Parker) |
Discipleship Essentials
Discipleship is a formal word that suggests all the modes of Christian learning– head, heart, and body. During Lent, discipleship essentials will focus on three habits of Christian life that address the three relationships that define us: our relationship to God, our relationship to others, and our relationship to ourselves. This series will highlight simple tools from within the Anglican tradition that aim to mend all three of those relationships.
March 01

First Sunday Welcome Reception

March 08

PRAYER

(Liz Parker)

March 15

FORGIVENESS

(Neil Willard)

March 22

CONFESSION

(David Wantland)

March 29

SABBATH RHYTHMS

(Clergy Panel)

April 05

Palm Sunday

April 12

Easter

April 19

Dr. Catherine Meeks

April 26

SERVE SUNDAY
BIBLE STUDY
This returning Bible Study class will continue with its study of the letters to the Hebrews. – Family Room with Mary Ann Starks
Children's Formation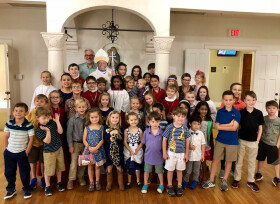 Liturgy Preparation (Liturgy Prep) is offered each Sunday as an integral part of the 9 a.m. and 11 a.m. worship services. Our average participation numbers have grown significantly this year. We have had as many as 60 children present for Liturgy Prep. The children are led out of church behind the children's cross during the Gospel hymn and return at the exchange of the Peace. During this special time, the children have an opportunity to worship and learn about the gospel lesson for the day. This special time is spent singing together, praying together, and talking about the gospel or some other aspect of the Liturgy. Liturgy Preparation is offered to all children.
Children's Sunday School: This year we began the fourth year of Weaving God's Promises with the focus on Weaving God's Beloved Community - How we are called by God to live in loving community with one another and fulfill God's promises for us in the healing of all creation. We learned together that we are called by God to live as One Body in Christ, loving our neighbors as ourselves.
Children's Sunday School
Pre-K & K (A101)
1st & 2nd Grade (A201)
3rd - 5th Grade (A202)
Palmer Episcopal Youth
Palmer EYC meets Sunday mornings at 10 AM in the Youth Room (upstairs) and Sunday afternoons. Visit the Youth Ministries page for more info.
Weekly Bible Study
Palmer also offers four different Bible Studies throughout the week.
Sunday Bible Study - Everyone is invited to this Bible Study on Sundays from 10:15 AM to 10:50 AM in room A102.
Wednesday Bible Study - Wednesdays from 12:00 PM - 1:00 PM in room A102. Together we...pray, reflect and study Scripture.
Men's Bible Study - This group meets Tuesdays from 7:00 AM – 8:00 AM in Room A102.
Women's Bible Study – This group meets on Tuesday mornings at 7:00 AM in the Palmer Library.
Wednesdays at Palmer
7:00 pm - 8:00 pm
With all that happens during Sunday liturgies, Faith Forums are regrettably brief. Great Wednesday provides the chance for discussion and a more applied approach to exploring the essentials of our faith. Our Great Wednesday series mirrors the Faith Forum, but with an eye toward applying these essentials of our faith. Not sure how to pray with the Book of Common Prayer? Wondering how to read specific challenging texts? Interested in discussing some theologians together? Great Wednesday is the chance to engage these habits of faith together. Come when you can and come often!
| | |
| --- | --- |
| January 8 | TEXTS & SCROLLS (Neil Willard) |
| January 15 | HOW to STUDY with RESOURCES (Mac and Rosine Hall) |
| January 22 | DIFFICULT TEXTS: GENESIS (creation call/fall) |
| January 29 | DIFFICULT TEXTS: PSALMS (imprecatory) |
| February 05 | DIFFICULT TEXTS: EPHESIANS (5) |
| February 12 | THEOLOGICAL REFLECTION |
| February 19 | THEOLOGICAL REFLECTION |
| February 25 | SHROVE TUESDAY |
| | |
| --- | --- |
| February 26 | ASH WEDNESDAY |
| Marcy 04 | DIVERSITY AND FREEDOM in DAILY PRAYER |
| March 11 | DIVERSITY AND FREEDOM in DAILY PRAYER |
| March 18 | spring break |
| March 25 | SEEING THROUGH OTHERS: Anglican Poetry |
| April 01 | SEEING THROUGH OTHERS: Anglican Divines |
| April 08 | HOLY WEEK |
| April 15 | EASTER WEEK |
| April 22 | DIVERSITY & FREEDOM in RULES OF LIFE |
| April 29 | DIVERSITY & FREEDOM in RULES OF LIFE |