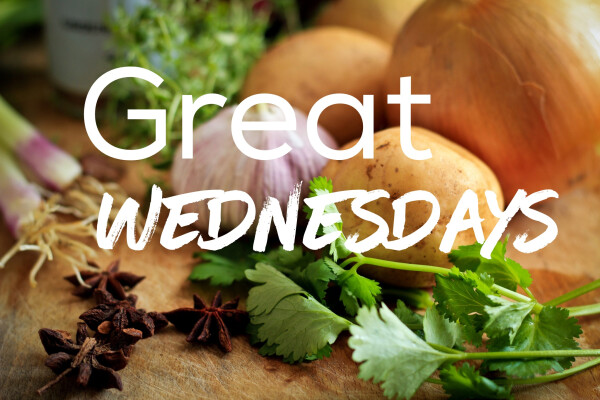 GREAT WEDNESDAYS
Since the earliest days, Christians have celebrated Jesus through the sharing of worship, ideas and food. Our Great Wednesdays continue that tradition of nourishing body, mind and spirit. Consider Great Wednesday to be a midweek spiritual break, a mini-Sabbath. Give yourself, your friends, and family this gift of time. Put it on your weekly schedule. Come for the intimate worship service, a delicious meal, and the opportunity to learn something new.
Great Wednesday Dinner Schedule & Pricing
5:30-7:00 Dinner is continually served in Parish Hall during this time frame.
*Cost: $7.00 Adults and $3.00 children
6:00-6:30 Healing Holy Eucharist in St. Bede's Chapel
7:00-8:00 Great Wednesday Programs and Classes
*At the request of the Finance Committee and in response to God's call to be good stewards of the many gifts bestowed upon us, you will note that there has been a $2.00 increase in the cost of Great Wednesday dinners. Great Wednesday dinners at Palmer often include three full courses – salad, entrée and dessert – plus beverages. This increase will help us to live within our means by covering the costs associated with this parish offering.
Volunteer
Great Wednesday requires the work of many hands and there are a number of ways you can help. All parishioners are invited to participate; no need to wait for any particular group or team sign-up!
Serving Line - Interested in being part of the Great Wednesday Serving Line? Please contact Sue Howard -
Cashier - Interested in serving as a cashier? Please contact Tara McConathy -
Wednesday Service and Classes
7:00 pm - 8:00 pm
Taizé Healing Service 6 PM
Prayer Group (St. Bede's Chapel) 7:15 PM
Adult Class (A102) 7:15 PM
With all that happens during Sunday liturgies, Faith Forums are regrettably brief. Great Wednesday provides the chance for discussion and a more applied approach to exploring the essentials of our faith. Our Great Wednesday series mirrors the Faith Forum, but with an eye toward applying these essentials of our faith. Not sure how to pray with the Book of Common Prayer? Wondering how to read specific challenging texts? Interested in discussing some theologians together? Great Wednesday is the chance to engage these habits of faith together. Come when you can and come often!
| | |
| --- | --- |
| January 8 | TEXTS & SCROLLS (Neil Willard) |
| January 15 | HOW to STUDY with RESOURCES (Mac and Rosine Hall) |
| January 22 | DIFFICULT TEXTS: GENESIS (creation call/fall) |
| January 29 | DIFFICULT TEXTS: PSALMS (imprecatory) |
| February 05 | DIFFICULT TEXTS: EPHESIANS (5) |
| February 12 | THEOLOGICAL REFLECTION |
| February 19 | THEOLOGICAL REFLECTION |
| February 25 | SHROVE TUESDAY |
| | |
| --- | --- |
| February 26 | ASH WEDNESDAY |
| Marcy 04 | DIVERSITY AND FREEDOM in DAILY PRAYER |
| March 11 | DIVERSITY AND FREEDOM in DAILY PRAYER |
| March 18 | spring break |
| March 25 | SEEING THROUGH OTHERS: Anglican Poetry |
| April 01 | SEEING THROUGH OTHERS: Anglican Divines |
| April 08 | HOLY WEEK |
| April 15 | EASTER WEEK |
| April 22 | DIVERSITY & FREEDOM in RULES OF LIFE |
| April 29 | DIVERSITY & FREEDOM in RULES OF LIFE |