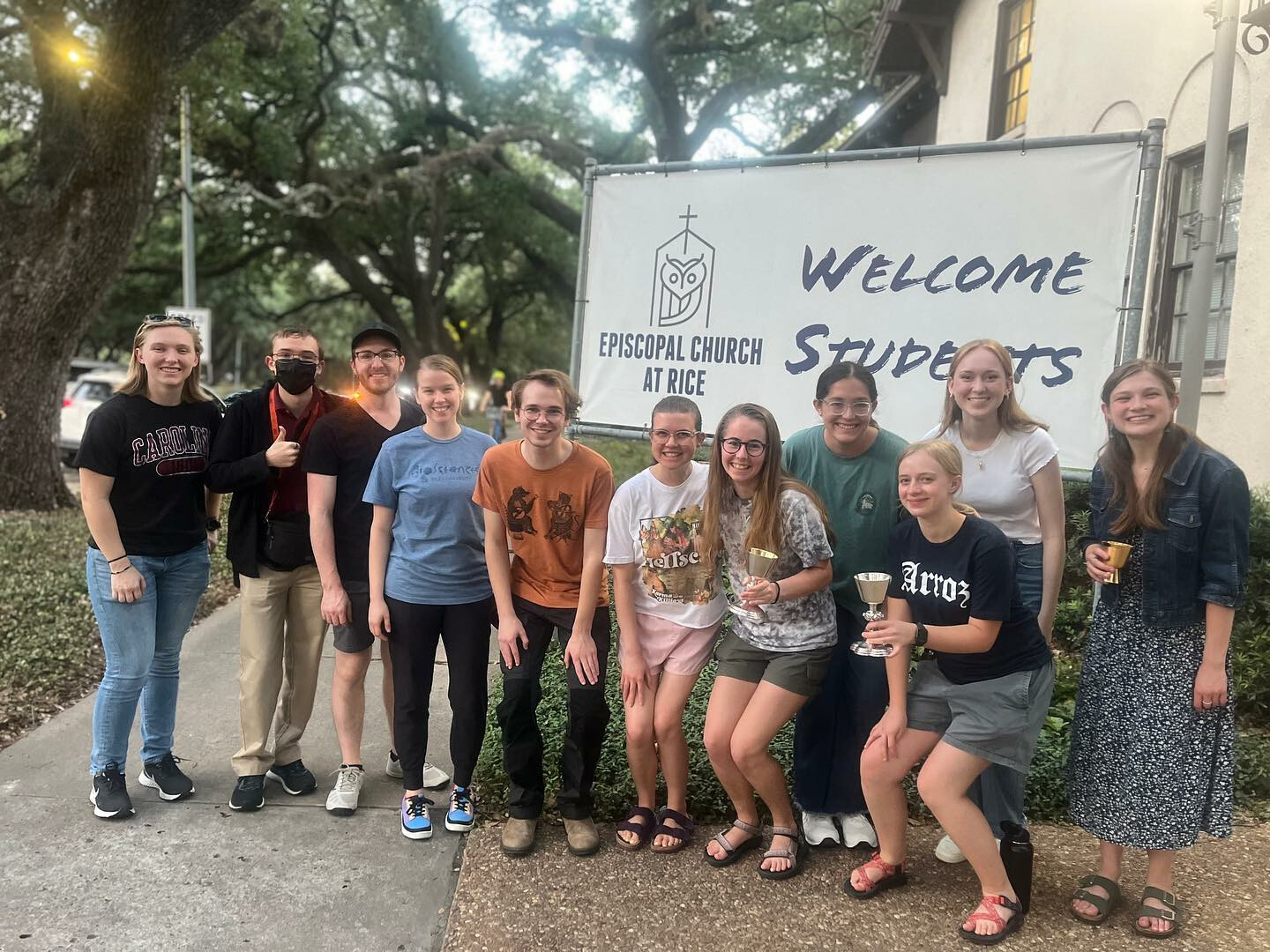 The new campus missioner, The Rev. Beth Anne Nelson, would like to express her delight and gratitude to all of the Palmers who came to The Autry House on Sunday (August 13). She is looking forward to strengthening the bonds between Palmer and The Episcopal Church at Rice. The ministry at Rice is continuing to flourish.
Beth Anne + is inviting Palmers to consider signing-up to bring a meal both on Sundays and Mondays. A home cooked meal or sponsoring a dinner from a local restaurant would help the ministry continue to be the hospitable place.
Here is a bit of what is happening at Autry House.
Weekly activities for the group include a Monday evening meal (7 p.m.) and a Wednesday afternoon lunch (12:00 p.m. at Brochstein) where the students have Sacred Space to share with each other and Beth Anne+ as they grow in their faith.

A couple of times a month, students are leading a "Wii and Tea" day on Tuesdays at 6 p.m. in Autry House.

From September through April there will be a joint dinner/service project on the first Sunday of each month. Anyone can come and fill bags with shelf stable items, known as Manna Bags, to hand out to the unhoused Houston population. This outreach activity, worship, and dinner is designed for those unable to attend morning worship at Palmer or those looking for an additional lower key option once a month. Students are encouraged to come and get to know the Palmer community better. This is something new this year and the ministry is open to how it will unfold for both communities moving forward.
For more information on this or our other events, please contact Beth Anne at or go to our website: https://churchatrice.org/.
---
The Episcopal Church at Rice is here to love and serve alongside the Rice University Community. We believe that the Gospel of Grace means the love and mercy of Jesus is for everybody.
Join us on Mondays at Palmer Church/Autry House (corner of Main and Cambridge) at 5:30 PM with a home cooked meal and an optional Bible Study afterwards. And join us on Wednesdays for Noonday Prayer and lunch at 12:15 PM in the chapel on the campus of Rice University. Noonday Prayer is a short service followed by lunch and fellowship.
We also do fun community activities and service projects throughout the year.
Questions? Contact our chaplain, the Rev'd Beth Anne Nelson at
For more information, check our website at churchatrice.org or follow us on Facebook or Instagram.