The Daphne Palmer Neville Society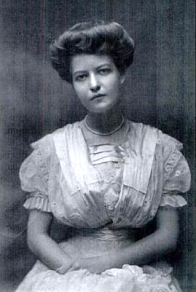 The story of the founding of Palmer Memorial Episcopal Church is a story of love and loss, sorrow and faith, courage and devotion. It is the story of a family dealing with the untimely death of their son and brother, 25-year-old Edward Albert Palmer, who so bravely died while trying to rescue his drowning sister Daphne in 1908. It is the story of how this young woman, Daphne, and her family drew heavily upon their faith to deal with this tragic loss. The story continues when, in 1927, Daphne (Mrs. Edwin I. Neville), made a $100,000 donation for a collegiate chapel at Rice University's Autry House in his honor. In 1929, Palmer Chapel became a parish—Palmer Memorial Episcopal Church.
The story of Palmer begins there in 1929, but certainly doesn't end there. Since 1929, Palmer Memorial Episcopal Church has been a community of great faith, with members who have their own stories of love, loss, courage, and faith. By becoming a part of the Daphne Palmer Neville Society you honor those who have come before, those who are here today, and those who will be here tomorrow. Palmer Memorial Episcopal Church is a testament of what great things can happen in a community of people who truly desire to know and share the love of Jesus Christ.
An Endowment Fund
As a parish, we established the Daphne Palmer Neville Society, an Endowment Fund, because we have a responsibility to provide a solid financial foundation for our faithful parish family and its many ministries for generations to come. The Society uses its income to support, encourage, and assist the religious activities of Palmer Memorial Episcopal Church. The primary focus of the Endowment is the preservation and upkeep of the Parish building.
The Society is an integral part of stewardship. As a parish, we must ensure that those who follow us have the same opportunity to live and grow in Christ's love.
Through your legacy gift to the Daphne Palmer Neville Society, you can ensure that our ministries continue to live into the joyous mission of transforming lives.
Methods of Giving
The endowment is vital to our community because:
It assures regular financial returns in predictable amounts and, preserved intact, does so forever;
When efficiently managed—supplemented by living gifts, bequests, and trusts—its principle can grow at a rate to help keep pace with parish ministry needs.
There are a variety of ways in which you can give to the Endowment:
Outright donation of cash, securities, real estate, or other property
Bequest in a will with the Society as outright, contingent, or terminal beneficiary (e.g. after expiration of an annuity of unitrust interest in favor of one or more individuals)
Creation of a lifetime trust, reserving the right to continue use for the balance of a giver's lifetime
Donation of a residency or farm reserving the right to continue use for the balance of a giver's lifetime
Donation of life insurance policies or naming the Society as contingent or terminal beneficiary
Transfer of assets of small family foundations that are considering termination
Questions about Legacy Giving at Palmer? Please contact the Church office at 713.529.6196 or Jere Ahrens for more information.
The Society Board
Bob Ittner, Chair
Bet Hunter
Lynn Morstead, Secretary
Mike Soika
Laura Van Ness, Treasurer
Society Members
Jan & Jere Ahrens
Ken & Susan Alexander
James Anderson Estate
Ami E. Bailey
Randolph & Kelly Bailey
Ethel Bell Estate
Marion Louise Bell Estate
Conrad & Helen Bering
Martha Tobin Bersch
Barry Caver
Marina & Alan Christensen
Jot Couch
Ruth Davies
Richard Donelson
Margaret & John Jay Douglass
Suzi Feickert
George & Joan Ferry
Harold "Hal" Gordon
Betty Greene Estate
Lois Hamblin
Greg Hambrick
Robert & Dawn Hawley
Robert Hensel
Keith & Kathy Herrin
Gladys Hucherson Estate
Elizabeth Bet Hunter
Bob & Linda Ittner
Roy Jones Estate
Rita & Blair Justice
Bob & Linda Kelly
Angie & Stuart Kensinger
Jim & Betty Key
Steven J Killworth
Palmer & Ansley Letzerich
Kamron Massumi
Lynn Maxwell-Gascoyne
Jim & Deidre Mercurio
Margaret Ellen Mitchell
Eulamae Cain Moore
Don Quast
Cynthia Purvis
Patricia "Pat" Reed
Penny Remick
Ron & Mary Robins
George Stone Sayre, Jr.
& Jeanine Baker
Joel & Margaret Shannon
Tom & Linda Shelton
Mary Ann Starks
Dick & Linda Sylvan
Courtney & Philip Tardy
Dorothy Barton Thomas Estate
Don & Mary Tobin
Sam & Sara Todd
Fred & Sharon Tooley
Dudley & Laura Van Ness
Earl Vanzant
David J Veale
John & Connie Wallace
Rufus & Kit Wallingofrd
Chelsea Williams Estate
Lee & Leslie Winston
Dick & Eleanor Viebig