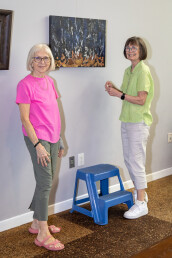 The Palmer Visual Arts Council welcomes visitors to the current show in the Palmer Parish Hall Gallery, "Return and Renew." This show opens on September 24 and continue until November 12. It features work by Joe Adams, Susan Alexander, Marilyn Biles, Jackie Campbell, Katy Grizzle, William Hunter, Roger Hutchison, Judith Lutkus, Patrick J. Moore, George Sayre, Eric Wagoner, and Wendy Wight. The gallery is open during Palmer's office hours, Monday through Thursday, 9:00-5:00 PM, Fridays, 9:00-3:00 PM, and Sundays 9:00 AM to 11:00 PM.
---
The final art show for 2023 will be "Joy to the World! Art for Advent, Christmas, and Epiphany," opening Sunday, November 19. Artists in two-dimensional media are invited to submit up to three entries no later than November 6. Thanks for understanding that November 6 is a firm deadline. All pieces must be wired, ready to hang, and weigh no more than 25 pounds.
To submit entries, provide the following information for each piece by the deadline:
jpeg image
title
dimensions
medium
price if it is for sale
artist's email and phone number.
Submit entries to both Susan Alexander, , and Jackie Campbell, . Artists also should sign and return the "Artist's Agreement for Display of Artwork," for their first show in the Palmer Parish Hall Gallery. Click the button below.