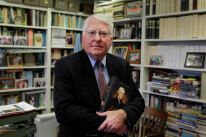 DINNER & DISCUSSION SEPTEMBER 22 WITH RICE PROFESSOR JOHN BOLES
All Palmers are welcome to Dinner & Discussion Friday, September 22, when we will welcome Professor John Boles, Rice University's William P. Hobby Professor Emeritus of History, as our special guest. Professor Boles will speak about Rice's strategic plan, which examines Rice's connection to the city and changes being planned to meet the demands of the 21st century. Professor Boles wrote the definitive biography of Edgar Odell Lovett, the founding President of Rice who set its initial course, and an acclaimed biography of President Thomas Jefferson. We will gather at the home of Bill and Paula Palamountain at 7 PM. Please bring a dish to share with about six people, plus $3 each to cover beverage costs. If you have any questions, contact Joan Baird Glover at 346-444-6096 or .

---
Dinner & Discussion
For more than 40 years, Palmer parishioners have gathered together to build relationships, enjoy delicious potluck dinners, and learn about current thought-provoking topics.

Many stimulating and interesting issues, selected by parishioners, were presented in recent years. These included: U.S. Healthcare World Ranking, Texas Politics, Palmer's Fisk Organ & Organist, Buffalo Bayou Park, U.S. Immigration policy, and much more.

For additional information about upcoming events during 2022-2023, contact any member of the Dinner & Discussion planning committee: Don Tobin, Betty Key, Ken Alexander, Joan Baird Glover.
---
Dinner & Discussion – 2022-2023
During the academic year of 2022-2023, nine excellent speakers and topics were presented to Palmers and their guests. Much appreciation is due to Palmers who opened their homes to crowds ranging from 40 to 65 attendees.
September 2022 –
Making Dreams Reality: My NASA Experience
Speaker: Ansley Browns
October 2022 –
Hermann Park Conservancy
Speaker: Doreen Stoller, President
November 2022 –
Energy Transition
Speaker: Professor Jim Krane, Rice University's Baker Institute for Public Policy
December 2022 –
Home Eucharist
Celebrated by the Reverend Ryan Hawthorne.
January 2023 –
What is Cohousing?
Speakers: Lynn Morstead, Kelli Soika, Kip Krause, and the Rev. Liz Parker.
February 2023 –
Houston Parks & Recreation
Speakers: Kenneth Allen, Director and Tina Ortiz, Division Manager
March 2023 –
Houston Food Bank
Speaker: Brian Greene, President and CEO
April 2023 –
Houston's Zoo: History and Future Plans
Speaker: Audra Jesudason, Sr. Director of Development Operations
May 2023 –
Houston's Historic 1871 Glenwood Cemetery
Speaker: John E. Cutler
Dinner & Discussion – 2021-2022
Although restricted to Zoom gatherings during most of 2021-2022, Dinner & Discussion presented many engaging topics and speakers. Below is a list of the informative events that took place during the season –
September 2021 –
Introduction of Palmer's Curate and Deacon: Ryan Hawthorne and Jack Karn
Interviewed by the Reverend Neil Willard
October 2021 –
Precision Medicine: Enabling new cancer treatments
Speaker: Dr. Peter Gascoyne / UT M.D. Anderson Cancer Center
November 2021 –
Palmer's Property Development Task Force
Speakers: The Rev. Neil Willard, Rector and David Robinson, Sr. Warden
January 2022 –
Prison Entrepreneurship Program
Speaker: Al Massey, Executive Relations Manager
February 2022 –
2022 Politics & Elections in Texas and the U.S.
Speaker: Professor Mark Jones, Rice University
March 2022 –
Ukraine & Russia: Historical relationship and overview of current conflict
Speaker: Professor Ric Stoll, Rice University
May 2022 –
U.S. Immigration: Past and current policies, issues and challenges
Speaker: Charles C. Foster, Immigration Attorney