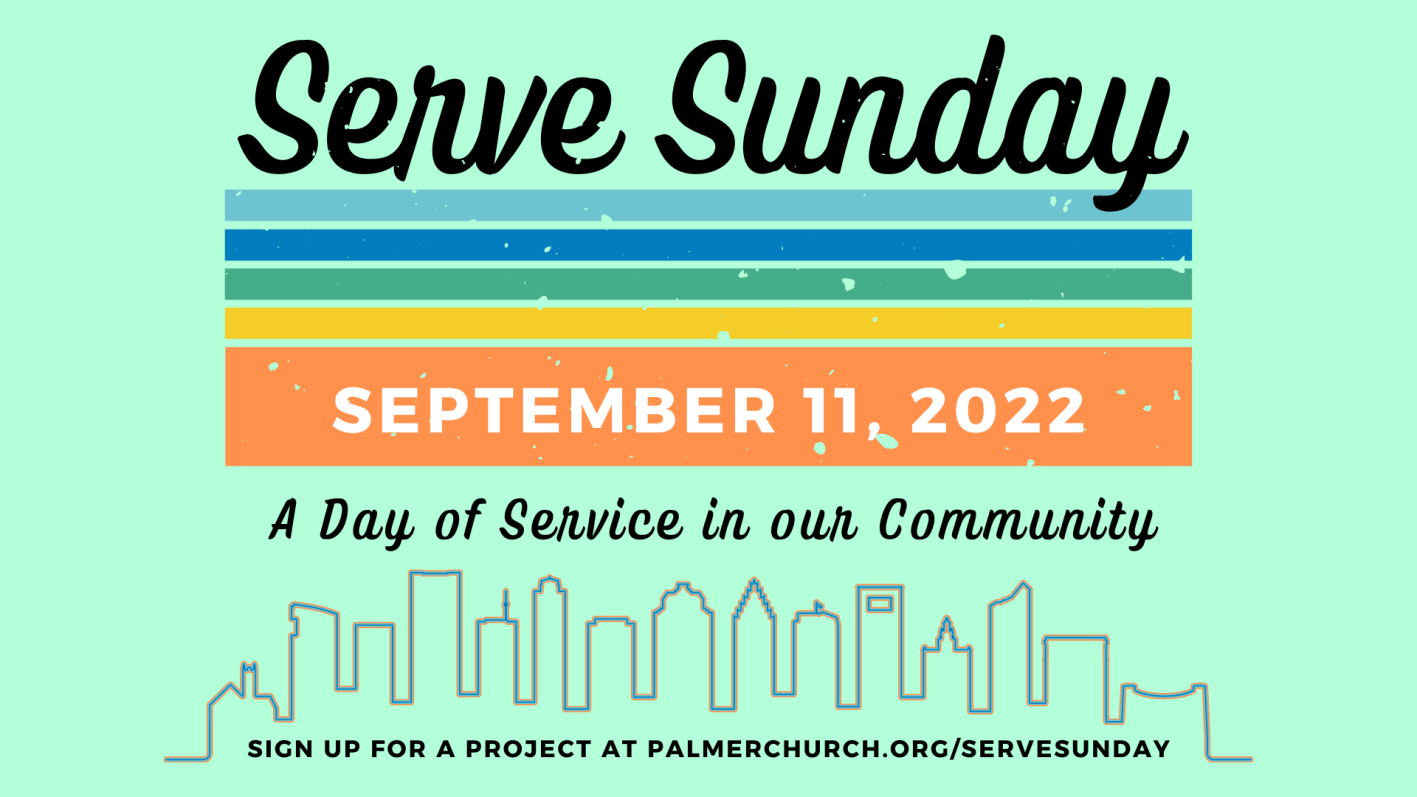 SEptember 11 is Serve Sunday Service Opportunities
Join with fellow Palmers in serving our neighbors together September 11th! ( Note: Serve Sunday activities will take place after the combined 10 AM worship service). Questions? Reach out to Jennifer Macia ( ) or Marie Wehrung ( ).
Hymn Sing at Belmont Nursing Home: Brady Knapp will lead singers to lift spirits at Belmont on Sunday afternoon, 1:30-2:30pm. Contact Brady or Alice Illian-Masquelette to sign up: ,
Volunteer at the Emergency Aid Coalition: 11:30am-1pm, 5401 Fannin Street, Houston, TX 77004. Rand Key will lead 6 volunteers (13 and older) in sorting donations and/or preparing sack lunches/hygiene kits/pet food donations for hand out to clients. Contact Rand to sign up: , or 936-264-6745.
Volunteer to serve the Homeless at the Beacon: 7:15-10am, MONDAY September 12th, 1212 Prairie Street

, Houston, Texas 77002. Mike Massey will lead a group of 10 volunteers 13 and up; contact Mike (

) to sign up.

Volunteer to help bring cheer to New Hope Housing Sakowitz: Will meet at 11:30 am for bingo and light lunch. Location: 2424 Sakowitz Street
Houston, TX 77020. Contact Jack Harvey at

to sign up.
Volunteer to help bring cheer to New Hope Housing Brays Crossing: Will meet at 11:30 am for bingo and light lunch. Location: 6311 Gulf Freeway, Houston, TX 77023. Contact Shannon Westin or Kathleen Rodriguez to sign up: ,
Volunteer with Hope Farms: Join Pam Longley working at Hope Farms, whose mission is to grow fresh, affordable produce in one of Houston's food deserts. 11:30-3:30pm, 10401 Scott Street, Houston, TX 77051. Contact Pam for more information and to sign up:

or 713-822-8234.
On Campus projects at Palmer at 11am, Parish Hall: Join us after the 10am service to fill snack bags for our neighbors in the Ben Taub ER waiting room and help us show the Archway students some love by putting together welcome bags for them.
Help Palmer win the Competing for Goodness Food Drive:

Hosted by the Minaret foundation, the month-long competition among Houston's many diverse faith communities aims to raise awareness during September's National Hunger Awareness Month and help stock the Houston Food Pantry. Bring your donations of non-perishable food items to the collection boxes in the Fellowship Hall or the church office. (If you can't make it on Serve Sunday the collection/competition runs the entire month of September).
---
See below for a link to a gallery with photos from our past Serve Sundays.
On the morning of a Serve Sunday after the we will be commissioned and sent out in the world around us to serve and to listen to our neighbors. There will be a variety of opportunities for service that parishioners will be invited to sign up for ahead of time. There will also be an opportunity to serve for families with young children and those with limited mobility. The invitation is really to be the church in the neighborhoods beyond our walls.
Serve Sunday August 19, 2018 Photo Gallery