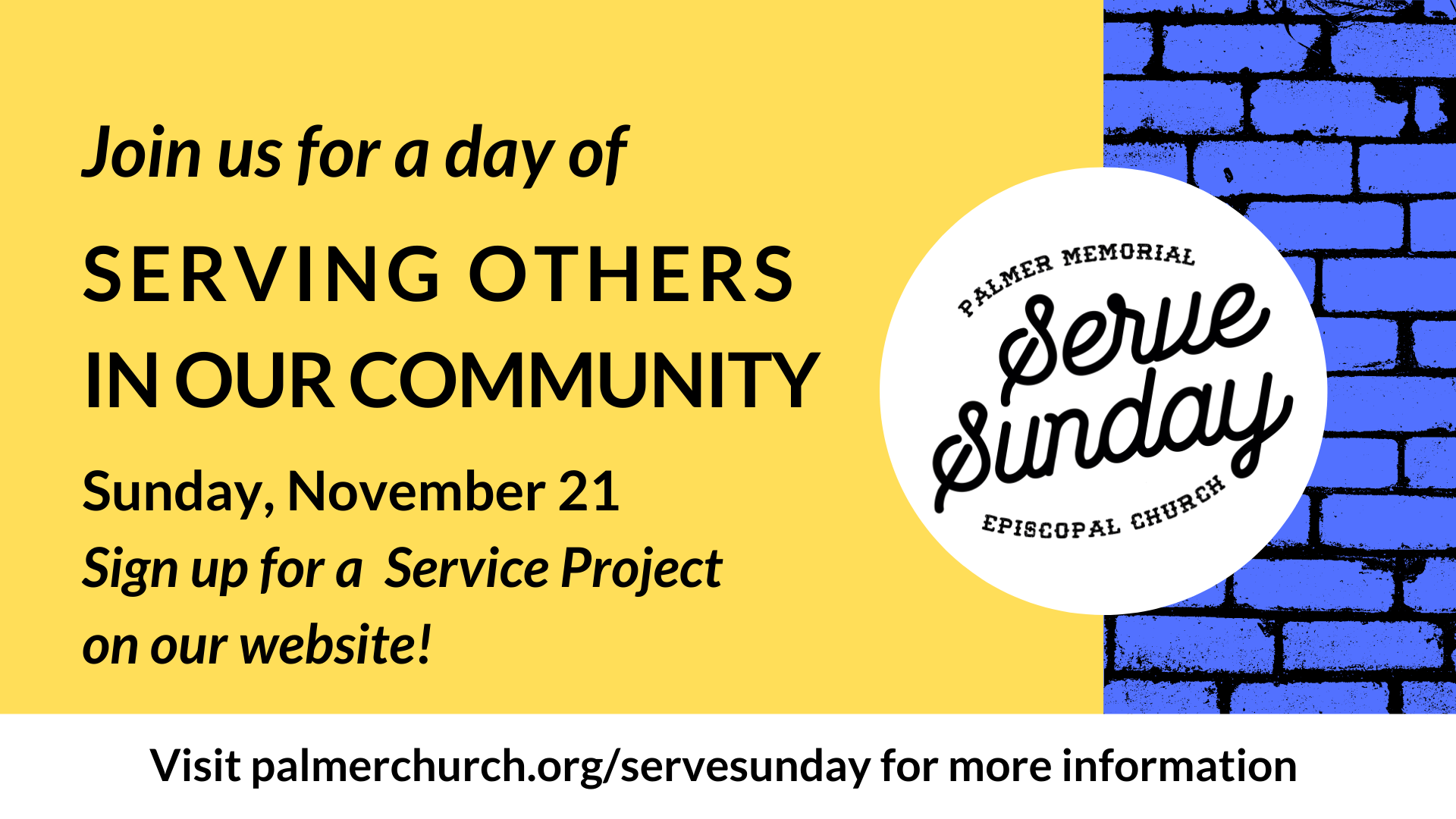 Save the Date! Our next Serve Sunday is coming up on November 21. Please mark your calendars and plan to join us. Look at the service project opportunities below and sign-up for one by contacting the project leader. Questions? Reach out to Jennifer Macia ( ) or Marie Wehrung ( ).
November 21 Serve Sunday Service Opportunities
Join with fellow Palmers in serving our neighbors together on Sunday November 21st! ( Note: We will NOT have a combined service this day, the services will be a the usual times.)
Volunteer to serve the Homeless at the Beacon: 7:15-10am,

1212 Prairie Street

, Houston, Texas 77002. John Fields and Mike Massey will lead a group of 7 volunteers 13 and up. (Note: all spaces are currently filled.)
On Campus projects at Palmer at 10am, Parish Hall: We will be serving our neighbors with projects for Yellowstone Academy and Archway Academy; all ages and abilities welcome.
Volunteer to Beautify Hermann Park: Deacon Jack Karn will lead the youth group in picking up trash at Hermann Park, to show kindness to the beautiful space around Church: 10:15-11:30am.
Help Palmer's Refugee Ministry prepare an apartment to welcome a new Refugee family: Visit the Sign-Up Genius: https://www.signupgenius.com/go/5080B4FABAA2DA75-palmer1 , pick a household item to donate (items may be new or gently used unless specified), bring it to church on November 21st, and sign the Welcome Banner in the fellowship hall. Please include the estimated value (no names are needed) on a sheet of paper with your gift, as we need to document Palmer's support towards our sponsorship commitment. If you have questions or would like to join the welcome and sponsorship team, or if you have furniture to donate, please contact Linda Shelton at . Below is a list of needs for easy reference but please use the sign-up genius (you can also find the link on the website under Refugee Aid) to avoid duplicates!
- Bathroom: new towel and washcloth sets (4), shower curtain/liner (1)
- Bedroom: new Double or Full size bed sheet set (1), New twin sheet sets (2), new pillows(4), Full size blankets/comforters (1), Twin size blanket/comforter (2)
- Kitchen: cooking utensils (spoons, spatulas, ladle, etc), can opener, large soup/rice pot, large skillet, pots and pans, mixing bowl set, cutting knives, kitchen towels (2), tea pot/kettle, baking pans, food storage set, hot pads (2),
- Cleaning Supplies: broom/dustpan, package of light bulbs, toilet brush, sponges, dish detergent, spray cleaner for kitchen (1), bathroom cleaner (1), laundry detergent (1), aluminum foil, laundry basket
- Paper Goods: Toilet paper, Kleenex, Paper towels, kitchen trash bags, paper napkins
- Toiletries (family size): bars of soap (6), shampoo, conditioner, shaving cream, razors (men's and women's), lotion, deodorant (men's and women's), toothpaste and toothbrushes, kid's toothpaste and toothbrushes, hand sanitizer, Q-tips
- School supplies: 1" binder with clear window cover (2), notebook paper, black pens, pencils and sharpener, tablet (2)
- Miscellaneous: Houston map, alarm clock,
- Furniture: Please let us know if you might have one of these to donate when we have an arrival date for the family, as we have no storage space: a sofa, chairs, small scale "apartment size" dining table and chairs.
---
See below for a link to a gallery with photos from our past Serve Sundays.
On the morning of a Serve Sunday after the 7:45 and 10:00 AM worship services, we will be commissioned and sent out in the world around us to serve and to listen to our neighbors. There will be a variety of opportunities for service that parishioners will be invited to sign up for ahead of time. There will also be an opportunity to serve for families with young children and those with limited mobility. The invitation is really to be the church in the neighborhoods beyond our walls.
Serve Sunday August 19, 2018 Photo Gallery