SPECIAL INTERFAITH PROGRAM
Jerusalem Peacebuilders (JPB) invites you to a special interfaith event at Palmer on Thursday, August 11 beginning at 6 PM. A program of Jewish, Muslim, and Christian prayers and music will be held in the Nave followed by a dinner in the Parish Hall. This is a wonderful opportunity to visit with youth from the Holy Land who have been attending JPB's Summer Institute. Everyone is invited but please RSVP: in-person sign-up at Palmer on Sunday mornings after service on July 17, 24, 31, and August 7 or by signing up by clicking this link or filling out the form.
---
Jerusalem Peacebuilders is an interfaith non-profit organization with the mission of creating a better future for humanity across religions, cultures, and nationalities. JPB's programs focus on uniting Israeli, Palestinian, and American youth and adults, providing them with opportunities and skills to become future leaders for peace in the global community. Co-founded by one of Palmer's own, Jerusalem Peacebuilders is an central component of Palmer's ministry of reconciliation, both locally and in the wider world. Palmer participates in Jerusalem Peacebuilder's Houston-based Interfaith Citizenship Institute each summer, sends annual Eastertide pilgrimages to the Holy Land, and offers semesterly Great Wednesdays classes on the topic of peace-building.
---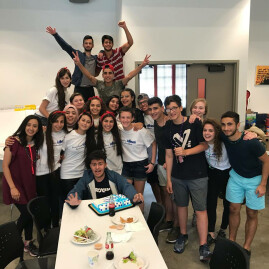 Houston Interfaith Citizenship Institute – Each summer, Jerusalem Peacebuilders hosts institutes in the Houston area, bringing together American, Israeli, and Palestinian teens in order to deepen cross-cultural relationships, civic responsibility, and knowledge of Houston's social and environmental challenges. Participants engage in personal and group challenge activities and learn what local government, faith communities, and service providers are doing to tackle social and environmental issues. The Houston institutes happen both in rural Navasota and in the heart of Houston. Palmers have the chance to serve during the institutes, from being an on-site shepherd, to hosting the participants for an evening at Palmer. If you are interested in being a part of this fun and educational program, contact Program Director Jack Karn.