« Back to Staff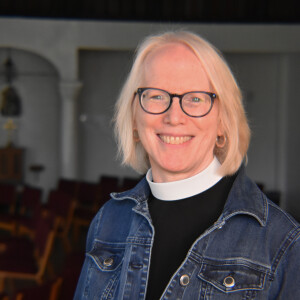 The Reverend Liz Parker
Associate Rector
Liz grew up in State College, Pennsylvania, in a neighborhood that bordered The Pennsylvania State University where she earned her undergraduate degree in Theatre.
Within minutes of graduating Liz moved to Manhattan. Although Liz had been converted at thirteen through Young Life she turned away from the faith in college. The day after she moved to the city she heard the Rev. Paul Zahl preach and promptly became an Episcopalian at Grace Church, Broadway. During nearly a decade in the city she performed in off off Broadway venues (an art gallery in Queens, a basement in the Bowery - you get the picture). To pay the rent she worked as a page at Windows on the World (the restaurant at the top of the World Trade Tower), clerked at a LOGOS Bookstore on Madison Avenue, and did word processing for the legal department of a nuclear power company on 42nd Street. Such is the life of an aspiring actress in NYC.
During that decade Liz also worked for a year in Nottingham, England, with Dr. Frank Lake, a Christian psychiatrist, who founded the Clinical Theology Association, an organization dedicated to helping clergy be more effective in their pastoral care. Dr. Lake's wisdom and insights still inform Liz's care for herself and others.
Liz answered God's call to ordained ministry, earning her Master of Divinity and Certificate of Anglican Studies from Berkeley Divinity School at Yale in New Haven, CT. While at seminary she met and married fellow seminarian Andy Parker, from Lubbock, Texas, who said "I swept her off her feet and into the Lone Star State." They served together at the Church of the Heavenly Rest in Abilene; St. Andrew's, Amarillo; and most recently St. Timothy's, Lake Jackson, where they raised their three sons. Sadly, Andy was diagnosed with stage 4 renal cell cancer in June of 2018 and died six months later.
Their eldest son, Will, is a student at Yale Divinity School and tours as a children's musician in the summer months. Ben, their middle son, is an architect employed at Overland Partners, San Antonio. He is married to Cai Qingzi, a PhD candidate in Asian Studies at The University of Texas in Austin. They have one daughter. Their youngest son, Caleb, serves as program coordinator for the Episcopal Student Center at UT, Austin and keyboardist for the post-punk band 'Blood.'
Liz loves to spend time with her family, read, swim, go to the movies, look at art and occasionally draw or paint or collage or assemble something herself. She desires, through God's grace, to embody the love and forgiveness of Jesus Christ to all and to inspire others to do the same.