« Back to Staff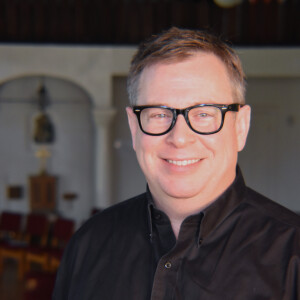 Brady Knapp
Director of Music
Dr. Brady Knapp has served as Director of Music at Palmer Memorial Episcopal Church since 1998, where he leads a multi-generational choral music ministry. During Knapp's time as Director the Palmer choirs have been featured on the National Public Radio broadcast "With Heart and Voice" on several occasions. The Palmer choir has recently sung choral residencies at St Mark's Episcopal in San Antonio (July 2016) and Christ Church Cathedral, New Orleans (July 2015). In the summer of 2013 the Palmer adult and youth choirs toured Washington, D.C. and were invited to sing a choral residency and services at the National Cathedral. In 2007, the adult choir was selected by audition to sing the worship services for the National Convention of the American Choral Directors Association in Miami, and in the summer of 2008, the choir sang the opening service for the Association of Anglican Musicians' National Conference in Houston. The Palmer Children's Choirs were invited to sing for the Texas Choral Directors Association in San Antonio in 2009. The Palmer choirs have made five compact disc recordings and have recorded the music of Houston composer David Ashley White on the prestigious Gothic Records label. Both the adult and children's choirs have sung choral residencies in the United Kingdom, leading services and singing concerts at the Cathedrals of Wells, Ely, Canterbury, and Chelmsford as well as several parish churches. During Dr. Knapp's time as Director the adult choir has participated in choral workshops with several well-known national and international church musicians and choral conductors including: Wilma Jensen, Thomas and Carol Foster, Dr. Marilyn Keiser, Bruce Neswick, Dr. Hilary Apfelstadt, Timothy Brown, David Flood, Malcolm Archer, Paul Trepte, and the late Richard Marlow.
Dr. Knapp is Associate Professor of Choral and Vocal Studies at the University of Saint Thomas in Houston, where he coordinates the vocal area, leads the University Singers, and teaches private voice to majors. He has taught diction for singers, voice pedagogy, and art song history, and he leads a weekly studio master class. He is also the founder and Music Director of UST's Opera Workshop. His former students are currently in graduate music schools, opera apprenticeship programs, singing professionally, and leading church and/or school choral music programs all over the country. Several of his past students have participated in summer festivals including Brevard, Opera in the Ozarks, Taos Opera Institute, AIMS in Graz, and the Franco American Vocal Academy. Dr. Knapp has served on the music faculties of Kenyon College, Sam Houston State University, and Rice University, as well as the Columbus School for Girls in Bexley, Ohio and Trafton Academy in Houston. Knapp holds the Doctorate of Musical Arts and the Master of Music in voice performance from Rice University and a Bachelor of Music from Vanderbilt University.
As a baritone soloist Dr. Knapp has given frequent art song recitals and has sung oratorio in professional concert venues. He has been a featured soloist with Houston Masterworks, the Houston Chamber Choir, the Zephyr Ensemble, and the Columbus Symphony Orchestra (Ohio). He is frequently invited to lead vocal seminars and workshops and to adjudicate for solo vocal and choral competitions. In the winter of 2014 Knapp conducted the RSCM Midwinter Course for trebles in Houston.