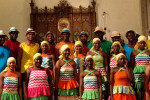 Palmer Church was privileged on Sunday to welcome the Bahamas National Youth Choir to its campus. The choir performed two beautiful, lively concerts in the Nave, both before and after the 10:00 service, and then joined parishioners for lunch in Parish Hall.
The idea for the choir visit began last year after parishioner Dr. Ann Whitehead and her Altar Guild team visited Ann's church home, St. Mary's the Virgin Anglican Church and Christ Church Cathedral in Nassau, The Bahamas. The idea was cemented after an executive board member of the choir visited Palmer and was impressed with the warmth, hospitality, music and sermon during the Sunday worship service.
"It was so exciting to have this talented and vibrant group of people at Palmer, "said Ann.
The choir was founded in 1983 as part of the celebrations marking the 10th anniversary of Bahamian independence. It is a charitable national cultural entity subsidized by The Bahamas Government and the private sector. Through the medium of the arts, it provides opportunities for self-growth, development and training for young people.
The choir has sung in 25 foreign languages, produced nine commercial recordings, and has traveled to twenty-four countries on four continents. It has appeared at the Concert Hall of the John F. Kennedy Centre for the Performing Arts in Washington D.C., The Weill Recital Hall at Carnegie Hall in New York City, The Moscow Conservatory in Russia, The Barbican and the Oxford University Playhouse in England, Notre Dame Cathedral in Paris, the Beijing Symphony Hall in China, St. Peter's Basilica in Vatican City and The Royal Swazi Theatre and Convention Centre, Swaziland, amongst other internationally acclaimed venues.

The choir has performed for Her Majesty Queen Elizabeth II, the late Dr. Nelson Mandela, their Royal Highnesses the Earl and Countess of Wessex, internationally acclaimed actor Sir Sidney Poitier, and many other distinguished persons and acclaimed celebrities. It has appeared on television in the United States, United Kingdom, China, Cuba, Switzerland, Russia, Canada and Mexico, as well as Bahamian television stations.
It is the recipient of many awards, including two for outstanding work at the Seventh China International Chorus Festival in Wuxi and two gold and a silver medals at the 2012 World Choir Games, U.S.A.
During last year's visit to Christ Church, the Palmer Altar Guild team was invited to read a lesson and take up the communion elements to the Altar. As a special thanks for the visit, a photo of Christ Church Cathedral was presented to Palmer; it hangs to this day in the Sacristy off the altar in the Nave.