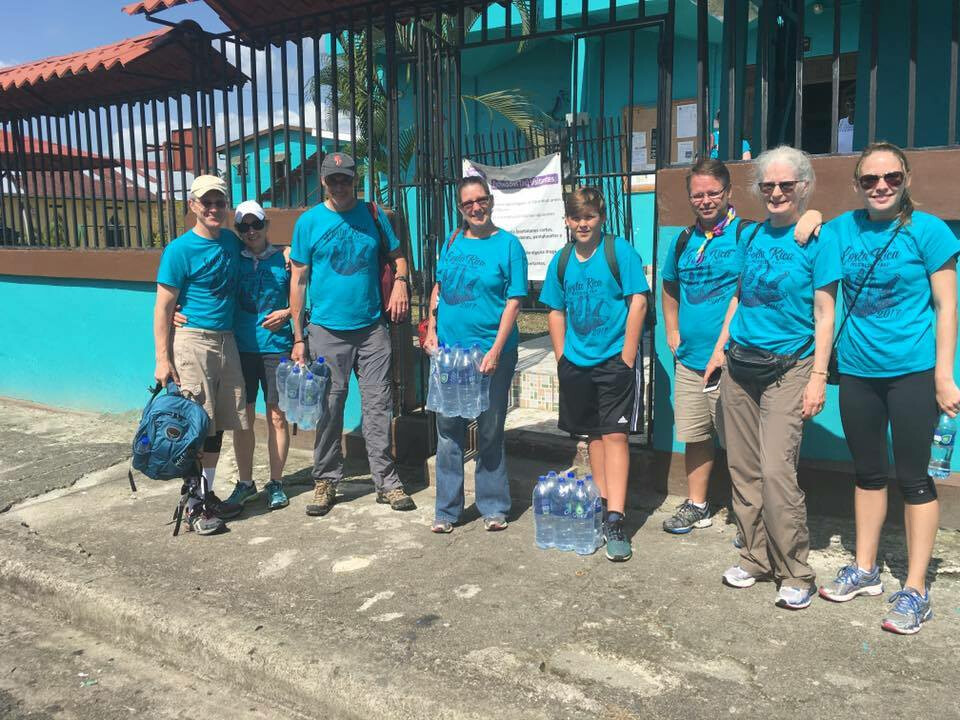 This year's international mission trip by Palmer Church accomplished much in the way of repairs to the Escuela San Marcos in Limon, Costa Rica. And the renovations, including clean and newly painted walls and scrubbed, shiny desks, will be lasting reminders of all the work that went on during their stay. But even more lasting will be memories of the joyful relationships formed with the people of Limon who opened their hearts to Palmer during every moment of their time together each day at Morning Prayer, mealtime, work time and worship.
This was the 19th year that members of Palmer Church left the comfort and familiarity of home for service in the international community. While previous mission trips delivered medical services to communities in need, efforts for the past three years have focused on properties in the Diocese of Costa Rica needing repair and renovation. Nine members of Palmer participated this year and the ministry looks forward to continuing its work for many years to come.
During this year's trip there were meaningful moments made extra special by the warm hospitality of the people of Limon. Friendly students pitched in to help sand down desks and the group enjoyed the warm companionship at Morning Prayer of Principal Elsa Brown McFarlane and the Rev. Irma Watson Morgan, interim rector of the Episcopal Church of Costa Rica, St. Mark's Parish. Conversation with the general contractor about his family and the hotel clerk who happened to be a school parent made everyone feel at home. And the school staff topped it all off, setting beautiful tables three times a day with snacks and meals that included traditional vegetable stuffed pastries, rice and beans, fresh seafood and meats, softball-sized beets sliced into colorful salads, hot coffee and fruit juices of every kind imaginable.
Pentecost at the church, San Marcos, was extra special with a lively 2 ½ hour worship services featuring lots of music and a Caribbean flavor.
Leisure moments were enjoyed with the community as well, including a visit to Chajuita National Forest, pickup games of basketball and soccer, and musical presentations by the school children that included a square dancing demonstration and a concert of young boys dressed as Elvis playing guitars and singing "Jailhouse Rock". School elections also happened to be going on when the ministry was there and it was both amusing and entertaining to witness the children at work on their "political campaigns" for school office. The Palmers showed their appreciation with gifts of mission trip tee-shirts, a new basketball and a big bag of tee-shirts used for Serve Sundays when Palmer does community outreach work in Houston and surrounding areas.
Catherine Thompson, a long-time member of the ministry, said the group members felt they had formed extraordinary relationships with people in the Limon community. "It was just a constant relationship as if we had been there for a long time; we just dove right in and it was so accommodating and I think everybody benefited," she said. "We formed a depth of relationship that we don't ever want to lose. This is a very grateful time for us."