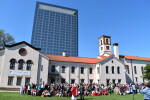 As we sang the hymn, "I Sing a Song of the Saints of God" on All Saints Sunday recently, I thought about the real, personal sacrifices by saints of our church, be they "doctor, queen, or shepherdess on the green," to call themselves Christians.
Close to home, think of our church building. The origin story of this chapel-turned-parish was the self-sacrifice of Edward Albert Palmer to save his sister Daphne from drowning.
We Palmers are beneficiaries of saints and sinners before us who sacrificed so that our church on South Main would be there, not only for Sunday worship, but also to celebrate our weddings and new babies, to baptize and educate our children, hold us when we are hurting, bury the dead, and above all, to proclaim the transforming love of God through Jesus Christ.
By the standard of the saints, we aren't asked for much sacrifice to call ourselves Christians and Palmers – well, almost nothing.
There is one small sacrifice - to turn in your stewardship card to support our mission and empower our vestry to plan responsibly for the coming year. We are asked to give back to God a generous share of the gifts God has bestowed on us to support our church.
Enlist yourself as a Palmer sustaining our church's good work of spreading and performing the Gospel. Answer your stewardship letter with a pledge, and become a steward of Palmer for 2020. There's not any reason, no, not the least, why you shouldn't be one too.