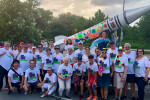 Among the crowds at this year's Pride Houston Festival, a man read our "God Thinks You're Fabulous" shirts as he was walking past, pointed our direction, and said "You guys are true Christians." His words affirmed to me that what we do matters and that there need to be more Christians showing open support for this community.
I come from a very conservative upbringing and was taught that being anything but straight is sinful. I knew in my heart this was wrong. Although I am straight, it was a big deal to my old church that I reversed my beliefs about same sex attraction, so much so that I lost many of my closest friends. I will never know what it is like to experience the hatred that so many in the LGBTQ+ community face, but I do understand what it is like to be rejected by people I thought loved and cared for me. I wouldn't pretend that my experience is equivalent to LGBTQ+ individuals', but that memory makes me a more empathetic person. For that I am grateful.
My participation in this year's Palmer pride events was a milestone for my faith. It's the culmination of what I know to be true: love is love. God is love. We are to love others. Full stop. No excuses.
At the parade, when we had finished passing out all the beads and fans, there was nothing left to do but smile and wave. I was so overwhelmed by the love exuding from the crowds that my waves turned into blowing kisses. Several people from the crowd mirrored my kisses back to me. It was a beautiful moment I will never forget.
I consider myself incredibly fortunate to be part of this year's Palmer Pride celebrations. I am excited to participate in next year's parade.