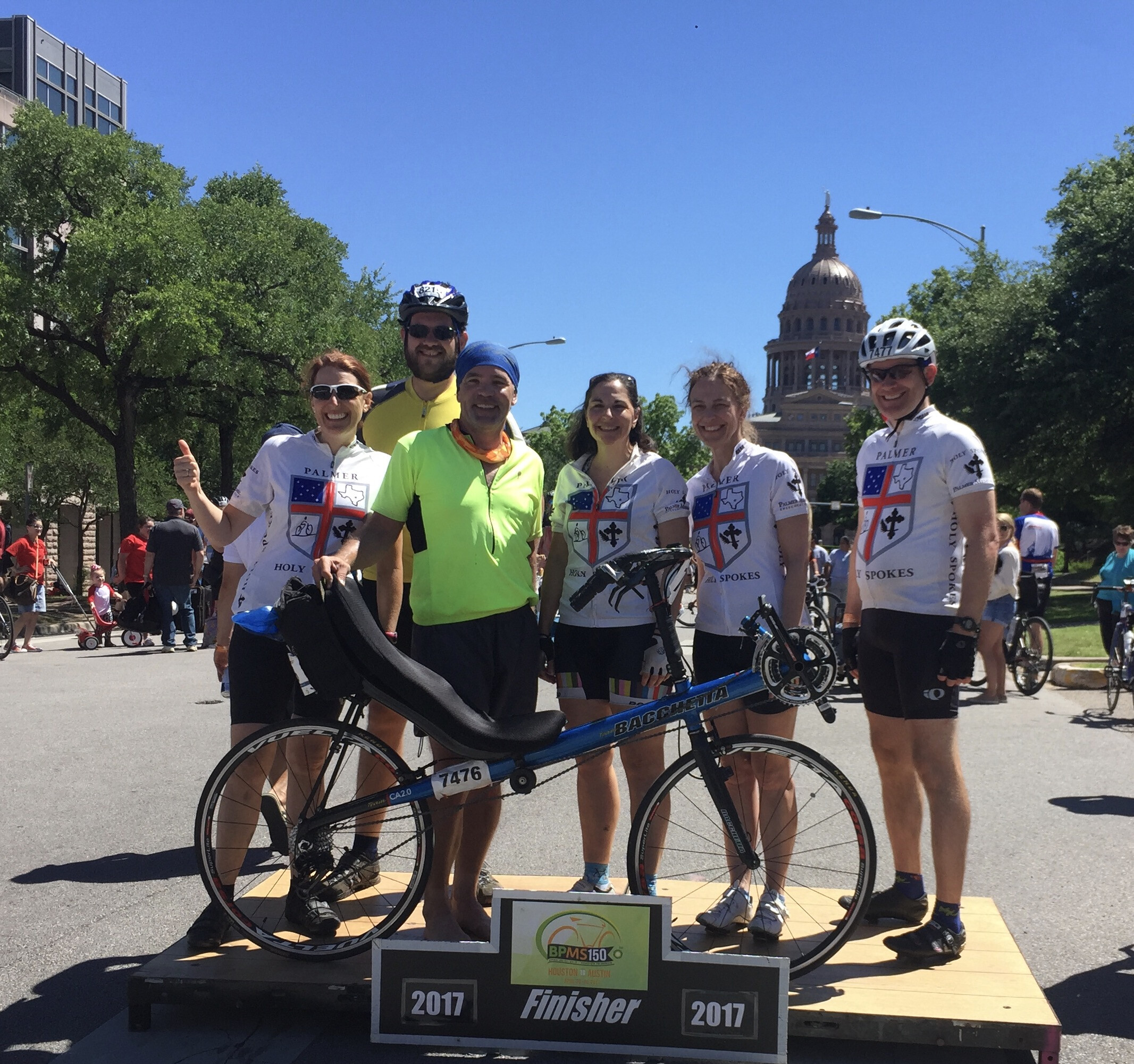 It's that time of year again when the Palmer Church Holy Spokes head out of town with a cast of thousands to join the MS150 race from Houston to Austin. We will be part of the largest charity bike ride in North America, with 13,000 cyclists, 3,500 volunteers and countless spectators along the 170-mile route that takes two days to complete. Each year the race raises millions of dollars to support research for a cure for multiple sclerosis and services for people who are affected by the disease. This year's race, April 28 and 29, has a $14 million fundraising goal.
The Spokes have become easily recognizable over the 12 years we have participated with team sizes ranging from seven to more than 25 in any given year. Sporting beautiful jerseys designed by parishioner Fran Wallis, we stand out with big red crosses on our backs. Not only can we find one another in the crowd; our jerseys keep us mindful to be kind to others on the course as we are representatives of our faith. The jerseys, as well as the team name, spark great conversations along the ride.
The Spokes ride together all year, but peak training begins every January for the race, generally starting with 20 mile rides and gradually adding mileage each week to prepare for the 170 mile ride over two days. Preparing for the hills is a challenge in flat Houston; we do spin classes, try to ride some of the overpasses in our city, or drive out to nearby countryside roads in towns like Chappell Hill and Weimar.
Our riders' ages have ranged from 13 to the 70s and almost every year we have a newcomer. Some are members of Palmer and some are friends and family.
Please enjoy these Chronicle stories that have featured the Holy Spokes in the past, one about Fran Wallis, who has been battling MS for many years, and the other by journalist Caroline Evans.
https://www.chron.com/life/article/Tandem-team-rides-for-a-cure-in-MS-150-1495751.php
(https://www.chron.com/neighborhood/article/Gone-with-the-Schwinn-a-different-kind-of-9377893.php).
Not only do riders on the Holy Spokes gain fitness and friends through participation on the team, we also feel truly thankful to be part of the effort to support those with MS. Many MS patients and their families line the route to express their appreciation for riders. It makes the s ore legs seem trivial, and fills our hearts with hope for a cure.
And now….., we are happy to introduce… The Holy Spokes!
Lynsey Slavonic
Lynsey was born and raised in Michigan. A passion for music lead her towards performance degrees playing viola. It was her grad work at the Shepherd School of Music that brought Lynsey to Houston where she has stayed ever since. Currently Lynsey is a middle school orchestra and handbell choir director in HISD. Lynsey and her husband Corey are members of Palmer serving primarily as part of the tower bell ministry. Lynsey started her long distance athletic pursuits as a marathoner and is now branching out and building confidence on a bike. This will be her first experience in the MS150. In her spare time, Lynsey has a lot of diverse interests/hobbies which include monitoring the weather, learning the Italian language, roasting her own coffee, practicing her various instruments - lately it's been the clarinet, and dabbling with nature photography.
Mario Macia
Mario joined the Holy Spokes in 2004, the first year it was formed, but because of an injury, he had to wait until 2006 to complete his first MS 150. (The team's first year of participation was 2005.) Mario, a member of Palmer for 21 years grew up in Houston and attended Rice University where he earned a BS in Materials Science and Engineering and the Georgia Institute of Technology where he earned an MS in Metallurgical Engineering and a Phd. His first job was as a cook in a fast food chicken restaurant; today he is employed as an engineer at ExxonMobil. Mario is married to Jennifer, a current member of the Palmer Vestry, and they have two wonderful teenage daughters Sarah and Anna. Benji, the neurotic dog, completes the family. Mario enjoys hiking, cycling and skiing. He's been known to carry a can of bear spray in his bicycle's water bottle holder after encountering a bear crossing the trail ahead not once, but twice, on one of his rides.
Ellee de Groot
Ellee recently served on the Palmer Vestry. Having grown up in Galveston, she earned a PhD in Chemical Engineering and more recently, an executive MBA. Her first job was babysitting for the children of her middle school English teacher; today she is an executive in a biotech company with an oncology focus. Elee, a member of Palmer since 2002, joined the Holy Spokes in January 2015. She is married to John de Groot 24 years this month and has two fabulous children: Evelyn, 19, and Jeff, 17. She loves cycling and spinning and relishes the memory of spectacular wildflowers on a picture perfect day as the Holy Spokes trained this past Easter weekend.
Torie Ludwin and Theo Pastorius
Torie and son Theo are a team within the team, having joined together this past January. Tori grew up in Fort Wayne, Indiana, and has raised Theo here in Houston. She earned a BA at Trinity College in Hartford, Connecticut, and an MFA from The New School in New York. Theo attended River Oaks Elementary School and currently attends Lanier. Their first jobs respectively were waiting tables in a diner (Torie) and dog walking (Theo). They are members of Palmer. Torie enjoys reading in her spare time while Theo likes to be on his phone. Torie especially enjoys the sites on practice runs through the Texas countryside – young donkeys, calves, foals and wide swaths of wildflowers. And while Theo enjoys the bluebonnets, he also likes the rest stops and biking down hills!
Nick Fulford
Nick grew up in Tonbridge, in Kent, about 30 miles south of London, England. He attended the University of Durham in the north of England, and then the Royal Military College of Science. His first job was as a hospital porter, and at this point in his life, has worked more than 30 years in the natural gas sector. His career has given him the opportunity to travel all over the world, and it brought him to Houston. He has been ringing bells for about 45 years, having rung at about 400 different towers in England, America, Canada and Australia, He is a member of the Palmer bell ringers and has organized two bell-ringing tours in England for the group, including one that was combined with boating on the River Thames, and another last year that enabled some of the Palmer ringers to try the 12 bells of Canterbury Cathedral, and participate in prayers in the 11th century crypt, administered by the arch deacon. Nick has three children who live in Canada, ages 29, 26 and 25 (two girls and a boy). His two favorite activities are bell-ringing and cycling. He also enjoy music and plays the Northumbrian Pipes from time to time, a smaller and much quieter bellows operated bagpipe, compared to the scottish version. He says he would like the time to get better!
Deb Giannoni
Deb grew up in Houston and she and her family are members of Palmer. Deb first joined the Holy Spokes in 2016 with her mountain bike, and when a member of the team lent her a more suitable bike she became hooked. Deb attended Cornell University where she earned an undergraduate degree and her MBA. He first job was as cashier at the Southampton Hardware and Gift Store in Rice Village. Today she is an executive with McCoy Workplace Solutions, a company that helps other companies create great work spaces conducive to great work. She runs customer service, customer experience, process improvement activities and helps manage and program several of McCoy's software platforms. Her husband Gary is a member of the Holy Spokes support team; the couple has three children, Carlo, 19, Augie, 17 and Alice, 14. Cocoa, the peppy and ever happy dog who thinks she's one of the kids, and PJ, Carlo's cat who likes to lay low, complete the family. Deb's favorite activities are running, biking, yoga, hanging out with family. She is always moved by the MS150 spectators who have MS as they thank the riders. It brings tears to her eyes every time she rides in the race.
Aaron Reese
Aaron grew up in Austin and came to Houston to attend Rice University as an undergrad before heading to American University in Cairo to study language and then Georgetown University for his graduate degree. He learned about the Holy Spokes when he started attending Palmer, having always wanted to ride the MS150. His first job was as a sacker for HEB; today he is a political risk analyst. Aaron is married to Kate, and they have twin boys, James and Danny. There are no pets in the household, but Aaron says a dog is in the family's future. Since he is helping to raise twins, sleep is a favorite pastime. Being on a bicycle in new places gives an appreciation for how much of the nation is not city-based. He loves riding by farmland, forests and big open spaces… away from traffic!
Barry Donovan
Barry joined the Holy Spokes more than 10 years ago with a recumbent bicycle that he purchased after having back surgery. After growing up in Houston's Sharpstown area, Barry attended Rice University where he earned a degree in Math Econ. His first jobs were mowing lawns, doing a paper route, selling watermelons and repairing truck tires, all before he turned 16! Today he is an M&A corporate finance adviser (investment banker). He is a member of St. Vincent de Paul, but says he swings by Palmer on occasion on Sunday mornings. Barry's wife Elisa is on the team; they have sons Sam, Marcus and Curtis who also participate in organized rides, including Tour de Pink. Dog Meaux does not cycle. In his free time, Barry goes bicycling in Weimar. His favor experience on a bike ride is RAGBRAI (Registrar Great Bike Ride Across Iowa), which he has done twice to date.
Jenn Macia herself is a member of the Holy Spokes. Due to an injury, she will not participate in the MS150 this year but will be on the support team.
Team members who are riding in this year's MS150 are: Lynsey Slavonic, Mario Macia, Ellee de Groot, Torie Ludwin and Theo Pastorius, Nick Fulford, Deb Giannoni, Aaron Reese, Barry Donovan and Melanie Fahey.
If you would like to support the Holy Spokes in the fight against multiple sclerosis you can make a donation here: http://main.nationalmssociety.org/site/TR?fr_id=29316&pg=team&team_id=537954
Click here to read "A Love Letter to the Palmer Holy Spokes"