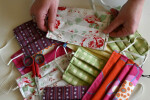 Several weeks ago, the Rev. Liz Parker and the Rev. Linda Shelton became interested in an outreach project for making cloth face masks and contracted people at Palmer Church who sew. Since I had a list of Palmers who have helped with the Palmer Serve Sunday sewing project, I was able to send an email to them, requesting help. It has been an easy project to organize because everyone can do it at home, whenever they have time, and there are now, online, many videos about how to make the masks. It takes about 15 minutes to make one. One hitch has been finding the elastic but I was able to get some and can send it to people who request it. Like many sewers, I have found I have plenty of cotton material already.
I'm not sure how many Palmers are making masks but there are at least eight and probably more. The masks are being given to doctor's offices, Interfaith Ministries, and other agencies and the demand is great.
If anyone is interested in helping with this project, please contact me for more information, Barbara Hass, at .