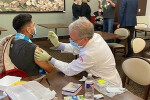 I am a member of the Altar Guild at Palmer, a greeter on Sunday mornings and I serve as coordinator for parishioners' pastoral needs when they seek treatment in the Texas Medical Center.
For the last 20 years, I have volunteered my time a few blocks away from Palmer visiting cancer patients at Houston Methodist Hospital. But on March 11, 2020, those face-to-face visits were abruptly halted due to Covid-19. Then, In December and early January, I was lucky to receive my two coveted vaccine shots. I was so excited that I was going to get to resume what I loved to do: visit with patients. Little did I know God was about to throw me a curve. As it turned out, He had another mission in store for me.
Houston Methodist was in dire need for volunteers to help its massive initiative to administer the Covid vaccine and that's what they needed me for most. I immediately jumped at the opportunity and offered my services. What a privilege to help others in my community who were eagerly awaiting their own doses!
The atmosphere in the vaccine distribution area buzzes with life as people arrive like lottery winners rushing to pick up their winning check. Houston Methodist executives help people in wheel chairs and on walkers, escorting them all the way through the process. Others help out as volunteers, many of them college age adults, individuals from every ethnicity and creed showing their empathy and compassion. I'm inspired by all these people coming together, eschewing negativity and fear, to serve collectively in a group with one common mission.
And then there are the patients.
The gentleman who simply wanted to hug his 95-year-old mother in a nursing home; he had not been able to touch her for more than a year.
The grandparents who desperately longed to see and feel the long missed smiles of their grandchildren and families in outlying towns.
The couple who drove four hours from Louisiana because they could get their doses at Houston Methodist.
There are very few positives to be pulled from this pandemic, but for me, seeing so many of God's children coming together in common cause has been so uplifting. We are constantly being battered with so much negativity, but people coming out in droves for the vaccine, motivated by a new appreciation for love of family, gives me reassurance. And to be a part of such a positive, dedicated and diverse group of volunteers gives me confidence that we can reverse the forces that divide our society.
The daily rhythm of our lives that we took for granted a year ago is now reappearing on the horizon. It's like a new chapter in a new book edition. Hope is finally returning, one could call it a do over. My dearest wish is that it will be a moral correction.